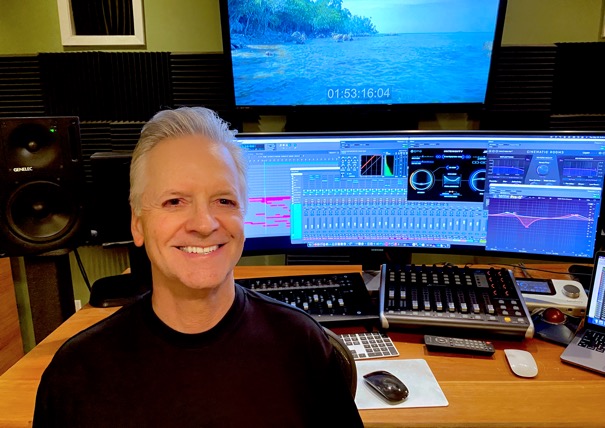 "For me it is all about the "emotional core" of a film, and that core will guide you to what the "tone" of the music should be, and finding that right tone is of paramount importance of any score."



David Williams has scored over 60 feature and television films encompassing a wide range of styles and genres. He has worked with some of the biggest names in the industry including

Francis Ford Coppola

on the MGM film

SUPERNOVA (

James Spader, Angela Bassett, Peter Facinelli

)

. David recently scored the psychological thriller

THEY LIVE IN THE GREY

starring

Michelle Krusiec

(HOLLYWOOD),

Ellen Wroe

(FOR ALL MANKIND),

Ken Kirby

(GOOD TROUBLE), and

Madelyn Grace

(DON'T BREATHE). Written and Directed by AMPAS Nicholl Screenwriting Award Winners

The Vang Brothers

, the suspense-action feature

NIGHT OF THE SICARIO

starring

Natasha Henstridge

, the

IndieFest Award-Winning

BROKEN MEMORIES

produced by

Gary Levinsohn

(JACK REACHER, SAVING PRIVATE RYAN) the human trafficking drama

UNBRIDLED

Produced by

Troy Buder

(QUEEN OF KATWE), and the Award-winning drama

MOONLIGHT SOUL

. Other films he has scored include Miramax's

PHANTOMS

(

Ben Affleck, Rose McGowan, Liev Schreiber, Joanna Going, Peter O'Toole

) Produced by

Dean Koontz

, the thriller

FREEZER

(

Dylan McDermott, Peter Facinelli

) directed by two-time Academy Award nominee and multi-Emmy winner

Mikael Salomon

(BAND OF BROTHERS) and Produced by Mark Manuel (HACKSAW RIDGE), the action-comedy

MALONE

(

Thomas Jane, Elsa Pataky, Ving Rhames

) Directed by

Russell Mulcahy

(HIGHLANDER) and Produced by

Brian Oliver

(BLACK SWAN), Voltage Pictures thriller

BEDEVILED

, Sony Pictures/MTV psychological thriller

THE DORM

,

directed by

Rachel Talalay

(DOCTOR WHO), and produced by

Michael Frislev

and

Chad Oakes

(FX's FARGO), Sony Pictures romance

ICE CASTLES

, A&E's historical drama

BENEDICT ARNOLD

(Aidan Quinn, Kelsey Grammer

), ABC-Disney's fantasy

FALLEN

(

Paul Wesley, Tom Skerritt, Bryan Cranston

), Sony Pictures drama

NO WAY BACK

(

Russell Crowe

), the WWII period drama

CHRISTINA

(

Stephen Lang

), FOX's military drama

A GLIMPSE OF HELL

(

James Caan, Robert Sean Leonard

), NBC/Universal's

L.A. LAW: THE MOVIE

, Produced by

David Madden

(RUNAWAY BRIDE), and Dimension's

THE PROPHECY

(

Christopher Walken, Virginia Madsen, Viggo Mortensen

) directed by

Gregory Widen

(BACKDRAFT, HIGHLANDER).

David graduated from Missouri State University with studies in composition and orchestration. He also did post-graduate work at North Texas University. David was awarded a private study fellowship with celebrated Oscar-winning composer

John Corigliano

(THE RED VIOLIN, ALTERED STATES). He is an ASCAP Award Winner and is a member of the SCL. He lives with his wife Diana in Woodland Hills, California.